Hulu app not working on LG TV after recent update under investigation; video for FOX & NBC channels gone for others

Anurag Chawake
Dec 02, 2021
Apps
,
Bugs and Issues
,
Hulu
,
LG
,
News
,
Standalone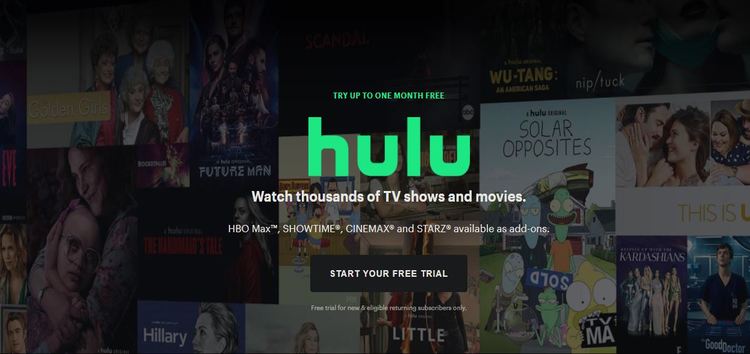 Hulu is one of the most popular video streaming services available, thanks to its affordable plans. With more than 43 million users, the OTT streaming platform is known for its TV shows and live cable service.
As with all online services, Hulu users do experience some bugs and issues such as the recent issue where users couldn't log in to HBO Max on iOS devices.
That being said, LG TV owners who are subscribed to Hulu are now reporting that the app is not working or crashing for them after a recent app update. Users said that the Hulu app started crashing after updating the app to version 7.0.8.
Common solutions such as clearing app data and uninstalling and reinstalling Hulu do not fix the problem either. Some say that they see the Hulu splash screen for just a second with the app crashing right away.
With many ditching their traditional cable TV for Hulu, people are frustrated since they are unable to watch their preferred TV shows amongst other things.
Hulu not working on LG TV after recent update to version 7.0.8 from LG Content Store. It just goes black and then resets to HDMI1. Anyone else having this problem? I was on chat with Hulu support but they didn't offer any solution after an hour in session.
(Source)
4k LG TV latest Hulu update is not working for me. I deleted it and installed it again and still wont work. Other apps are ok like Netflix and Disney +. Is anyone else having this problem?
(Source)
As it turns out, Hulu is already aware of the app crashing on LG TVs and said that they are currently investigating the issue. However, there is no ETA on a fix as of now.
Apologies, Marc! We can confirm we're looking into similar reports. When you get a chance, please call or chat and we'll assist further: https://hulu.tv/ContactSupport-. Our advocates will be standing by!
(Source)
And as if that wasn't enough, some are reporting that they are unable to watch any program on NBC, FOX, or any other channel part of the Discover group. It is interesting to know that the audio plays just fine but the corresponding video is missing.
Did you install the recent update? This is when my problems started. The issue exists on my Toshiba Fire TV. Interestingly, I did not receive notification of the "recommended update" on any other tv (I use the Fire Stick on these). What type of TV do you have?
(Source)
same problem here. toshiba fire tv. Fox and Fox news are the two channels I have noticed it on so far. Spent 3+ hours trying every fix i could think of before checking here and seeing that others are having the same problem
(Source)
Users suggest that the issue surfaced after the same update that caused the crashes on LG TVs. With some reports dating back to two weeks, Hulu is yet to acknowledge the issue.
We hope Hulu developers find out the root cause of the LG TV crashes and the no video on NBC and Fox issues as soon as possible. If and when they do, we will be updating this article to let you know.
In the meantime, you can check out our dedicated Hulu bug tracker to see which issues are currently affecting users.
Note: We have more such stories in our dedicated Hulu Section so be sure to follow them as well.
PiunikaWeb started as purely an investigative tech journalism website with main focus on 'breaking' or 'exclusive' news. In no time, our stories got picked up by the likes of Forbes, Foxnews, Gizmodo, TechCrunch, Engadget, The Verge, Macrumors, and many others. Want to know more about us? Head here.
×
Want to work for PiunikaWeb and enjoy best-in-industry compensation & benefits? You'll be glad to know we're hiring experienced candidates.