[Updated] Is Podcast app a literal mess after iOS 14.5 update; can't delete episodes & unnecessarily downloading old episodes?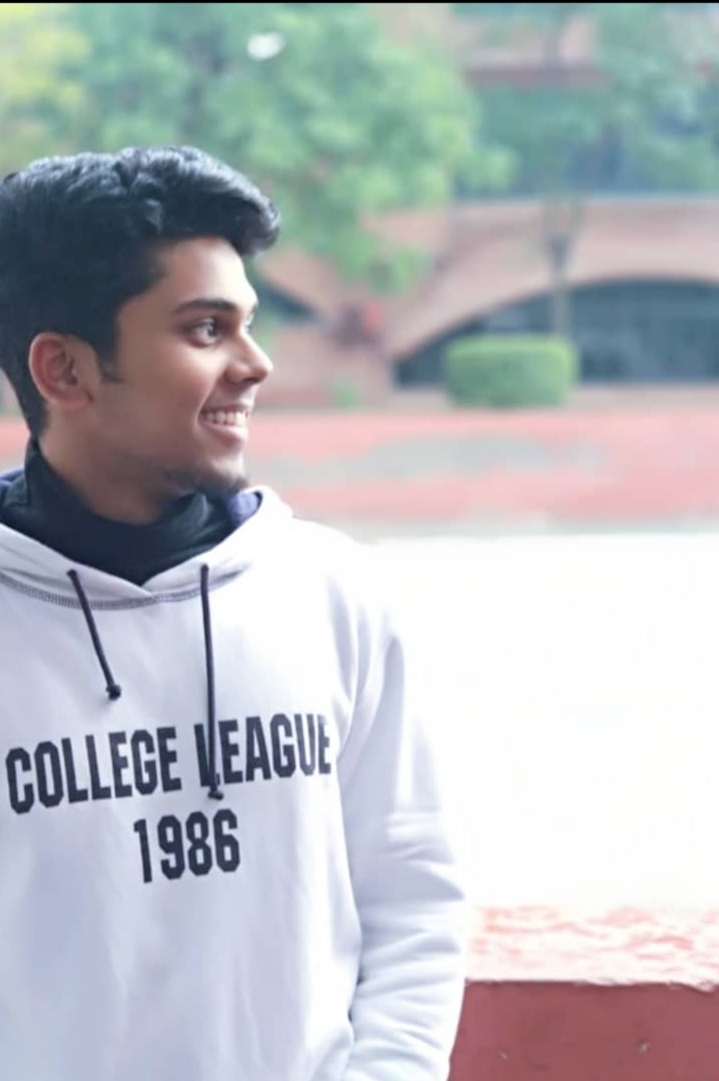 Ashutosh Dubey
Jun 28, 2021
Apple, Bugs and Issues, iOS, News, Standalone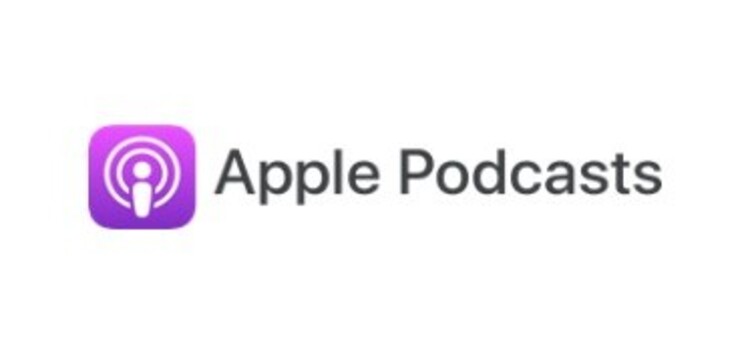 Here's the crux of the article in video form:
New updates are being added at the bottom of this story…….
Original story (published on April 27, 2021) follows:
After a long wait, iPhone users unlocked their phones to receive the iOS 14.5 update pop-up. The tech giant finally brings all iPhones under the umbrella.
The iOS 14.5 update has been a subject of discussion that put many on the edge of their seats, which is surprising for an update that is barely a major jump.
But then the update does justice to the long wait as a plethora of changes have arrived with this iteration.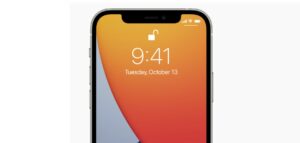 Along with a bunch of good and exciting changes, the update came with an annoying bug as well.
An issue of the Podcast app going haywire is being reported by the users who have upgraded to iOS 14.5.
Going by the reports, it appears that even though Apple has made positive changes to the Apple Podcasts, it didn't turn out to be as expected.
Here's what the changelog of iOS 14.5 says about the changes done to Apple Podcasts.
Apple Podcasts gets redesigned show pages to make it easier to start listening, as well as an option to save and download episodes so they are automatically added to Library for quick access. Top Charts, categories, and curated collections on the Search tab help listeners discover new shows.
Downloading old stuff and consuming data
Users report that the Podcasts app brought podcasts from the past that users chose to skip or didn't listen to back then.
iOS 14.5 Podcast app brought all old episodes that I did not listen to, either deliberately or because of timing, back to the feed. So annoying 🤦🏻‍♂️ ugh. (Source)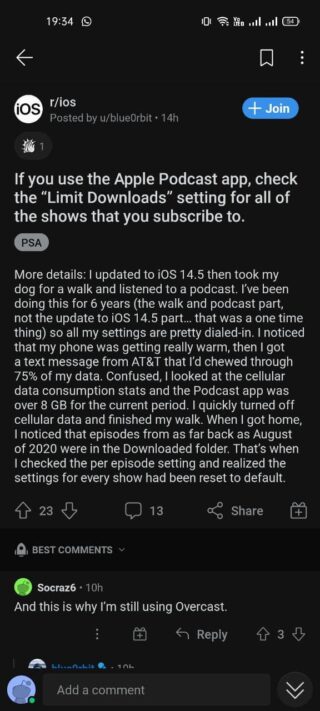 Unable to delete Podcast episodes on iOS 14.5
And what's more annoying is the fact that Apple has done away with the deleting option on the app. This leaves users with a bunch of podcasts lying in their list with no way of deleting them.
I'll pay you a thousand dollars if you can tell me how to delete a podcast episodes with the new iOS 14.5 update. Sweet merciful lord of christ. (Source)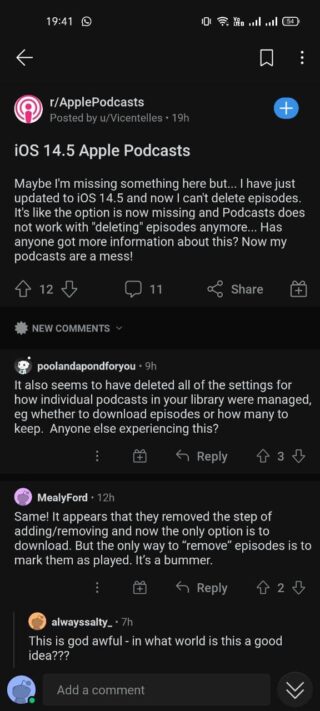 Well, one can still get rid of those redundant podcasts by marking them as "played" but that is a task as it requires you to go through each one of them.
Library sorting
This is coupled with an issue of sorting on the Apple Podcast app where it sorts podcasts in a different fashion.
ios 14.5 updated the podcast app again and it's fucking terrible. sorts library by when you subscribed to the podcast now instead of the most recent episode. who the fuck thought this was good (Source)
Podcasts syncing issue
The long-standing issue of the podcasts where it won't sync on other Apple devices continues even after the iOS 14.5 update.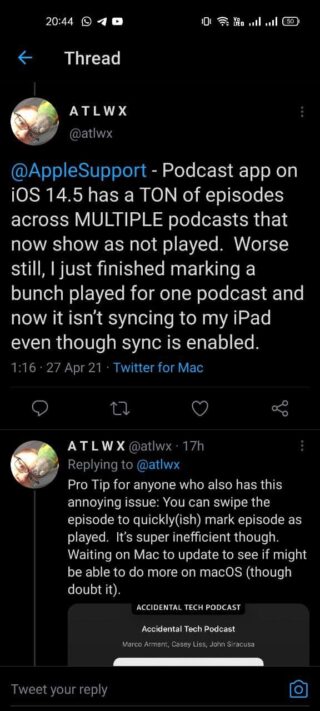 This issue has consistently affected Apple users and there's no fix even this time around. We hope Apple quickly takes note of this and patches things up here.
But nevertheless, iOS 14.5 still offers great value and it would be interesting to watch the changes iOS 15 brings, track the developments here.
Update 1 (April 29)
For those of you who are not liking the recent changes in the Podcast app (following iOS 14.5), the least you can do is head here and share your feedback with the developers. That's the only way to get to them and convey what you feel about the changes.
Update 2 (April 30)
There appear to more underlying issues than what was initially reported.
In addition to the issue where users could no longer remove podcasts individually, it now appears that individual podcasts can not be added to the list either.
In order to remove the ones in the list, toggling "Hide Played Episodes" will help get rid of the redundancy.
The "recently updated" option has also gone missing from the Podcasts app and also it isn't possible to keep track of how many unplayed episodes per show are on the list.
Some users are also facing issues related to their custom Podcast Stations that are no longer functioning. Stations fail to gather data of selected episodes in the right way.
There's also a significant chunk who are affected by the missing unplayed episodes and the ones that are present throw loading errors.
Update 3 (May 07)
A highlighted by a recent report, users should opt for the Limit downloads feature in the Apple Podcasts app to prevent the app from burning through their data by downloading months' worth of podcasts.
To do this go to the Library section in the Podcasts app > tap on the three dots > select Settings > then tap on Downloads. From here, choose the number of episodes you want the app to download automatically.
Taking things a step further, you can even toggle off the automatic downloads option. Although, this means you would have to have access to the internet at all times to listen to podcasts.
Update 4 (May 18)
In case the podcasts have already been installed on your Apple device. Here's what you can do to get rid of the redundant podcasts all at once.
iPhone/iPad
Go to Settings > General > Touch Storage > Podcasts > swipe left to delete all shows from the show
Mac
1) Click Downloads in the sidebar
2) Click the first download while holding Shift, scroll down to the last podcast
3) Click it to select all the intervening episodes
4) Control-click any of the selected downloads and click Remove Download.
This should help in case you already became the victim of the bug with hundreds of podcasts lying in your library.
Update 5 (June 01)
Some of the alternatives for the Podcast app that you may try are – Spotify, Overcast, Castro, Podbean, Downcast, Stitcher Radio, iCatcher etc.
Update 6 (June 07)
While updates are expected to make things better, looks like iOS 14.6 update didn't make things any better for the Podcast app users, as they continue complaining. Following are some of the reports:
Words can't express how horrible the iOS 14.6 update is in the podcast app. My iPhone turns hot when I play podcasts, my library only shows the recently updated shows, and when I individually search each show it shows me ALL the episodes instead of the oldest ten.
source
@AppleSupport
Ever since I updated to the iOS 14.6 my podcasts are not loading. I can clearly see podcast episodes loading on other apps (Spotify, Overcast) but not on the
@ApplePodcasts
app. Can you help me fix this?
source
I can't listen to your podcast or any podcast since the update 14.6 in the podcast app? Is something wrong with your feed or apple?
source
The company however said iOS 14.6 brings in some optimizations to the Podcast app, and will continue to add more Library enhancements in the coming time:
We've also heard from listeners and made adjustments based on their feedback with iOS 14.6, which was released on Monday. We will introduce additional enhancements to Library in the coming weeks.
Update 7 (June 08)
Adding to the Podcast mess, in case you missed, the app has also been blamed for draining the battery as well as causing excessive device heating following the iOS 14.6 update.
Update 8 (June 10)
ICYMI, the delays in the availability of new episodes is currently a known issue with the Apple Podcast app, so the problem with the feed that users are experiencing is meant to be. Hopefully, Apple will address this delay issue in the upcoming updates.
Update 9 (June 11)
One of the users at Apple community has listed the issues being encountered in the app after iOS 14/5 and 14.6 (some of these are already highlighted in the article).
On the Apple Podcasts app side:

• the app gets stuck in loading mode with some users when first opened,

• Episodes sometimes mark themselves as played after just a few seconds,

• some Shows do not list the most recent unplayed episodes even when the Show settings are chosen to do so.

• Station lists sometimes do not list unplayed episodes available in Show lists, even though the Station settings do not limit episodes,
• some episodes download once in Show lists, others simply do not, even the toggle for Automatic Downloads in Show settings is On,

• the app causes a heating problem and excessive battery draining, particularly when select other apps are open in the background or foreground,

• a change in key default settings in the iOS 14.5 Podcasts app upgrade caused numerous unwanted automatic downloads in Shows with tens or hundreds of episodes.
Let us know by dropping a comment below, which ones among the listed issues are you also facing.
Update 10 (June 12)
In case your feel your iOS device is draining battery due to the Podcast app after iOS 14.6 update, Apple support suggests you to run the Low Power Mode with the Podcasts app to analyze better.
Update 10 (June 14)
Some of the affected users have shared a few workarounds that may help. So you may give it a try:
If you don't Follow too many Shows, the easiest solution might be:

1) turn Off the toggle for Sync podcasts in iPhone Settings>Podcasts,

2) fully exit the Podcasts app,

4) delete the Shows in iPhone Settings>General>iPhone Storage>Podcasts,

5) restart your iPhone,

6) open the Podcast app and see if it loads,

7) quickly insure the settings for each Show are appropriate,

8) see if the newest episodes Appear in the show list.
I just deleted the Podcast app. Shut down the iPhone and restarted reloaded the Podcast = all podcasts still there and working normally now \. Ta-Da.
Update 11 (June 16)
The iOS 14.7 update will reportedly bring more changes to the Library tab in the Podcast app which should help fix some of the problems users are facing.
Apart from that, Apple has rolled out its new podcast subscription and channels initiative that aims to allow creators to offer special content for their premium subscribers without ads, in exchange for a monthly subscription.
Update 12 (June 19)
An individual who installed the iOS 14.7 beta has now confirmed that the Podcast app is still a mess. Hence, users shouldn't have high hopes for the upcoming iOS 14.7 stable update.
Just an FYI when I was on the 14.7 beta (prior to the iOS 15 beta) the podcast app was still just as bad. (Source)
Update 13 (June 23)
In case you're looking to switch podcast apps due to the bugs and issues plaguing Apple's podcast app, you can export your playlist as an OPML file that can be used on other apps like Overcast as mentioned by an individual. Here's how to do so:
In iTunes, start by viewing your Library, then select Podcasts from the top-left dropdown menu [Music / Movies / TV Shows / Podcasts / Audiobooks]. Then select File -> Library -> Export Playlist. That will let you save the OPML file, then, just click the OPML file in the Files app and it will automatically open in Overcast and import your subscriptions. (Source)
Update 14 (June 24)
Incoming is yet another user-shared workaround that may help those facing battery drain and device heating due to the Podcast app after the recent update. Here's what the user has shared:
Here's another faster solution —

Go to SETTINGS: Podcast

Turn off: Notifications

Turn off: Background App Refresh

Turn off: Cellular Data (unless you have unlimited cellular plan)

Turn on: Block Downloads over cellular

Turn off: Continuous playback (until iOS update improves podcast app functionality)

Turn off: Automatic Downloads – Enable When Following

This is just an experimental work-around to address the heating up and draining of your battery and the damage that's already shortened your battery's life and length of operation between charges.
Update 15 (June 26)
Apparently, the iOS 15 beta 2 update has improved the user experience with the Podcasts application according to an individual on the company's community forums.
If it helps, the podcasts app has gotten better with yesterday's update. There's still some drain caused by the podcasts app, but not nearly as bad and my phone no longer melts when playing episodes. (Source)
This should bring some hope that the mess that the Podcasts app is will soon be fixed via upcoming updates.
Update 15 (June 26)
Pocket Casts is yet another popular alternative that you can try hands-on while Apple addresses the ongoing issues on the Podcast app.
Note: We have more such stories in our dedicated Apple Section so be sure to follow them as well.
PiunikaWeb started as purely an investigative tech journalism website with main focus on 'breaking' or 'exclusive' news. In no time, our stories got picked up by the likes of Forbes, Foxnews, Gizmodo, TechCrunch, Engadget, The Verge, Macrumors, and many others. Want to know more about us? Head here.
×
Want to work for PiunikaWeb and enjoy best-in-industry compensation & benefits? You'll be glad to know we're hiring experienced candidates.